Beginner Node.js Workshop: 15th June 2013
On 15th June 2013 we would like to invite you to our first full day Node.js beginner workshop at TNG Technology Consulting with your tutor and MNUG speaker Golo Roden.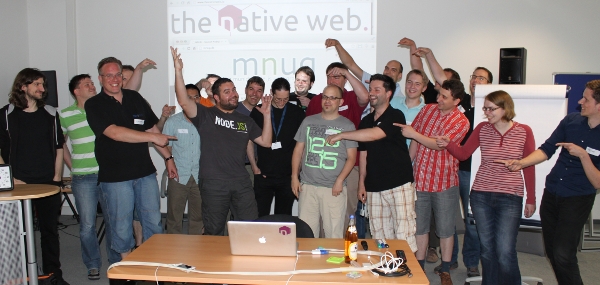 What?
Kaum eine Programmiersprache hat in den vergangenen 15 Jahren dermaßen Karriere gemacht wie JavaScript: Was 1995 als einfache, aber exotische Skriptsprache für die clientseitige Interaktion auf Webseiten begann, treibt heute sämtliche großen, modernen Webseiten wie Facebook, Twitter und Co. an. Und auch auf dem Desktop und mobilen Geräten findet JavaScript zunehmend Einzug. Was liegt also näher, als JavaScript auch serverseitig zu nutzen? In diesem Workshop lernen Sie das (vermutlich) "nächste große Ding" kennen, wenn es um skalierbare, hochperformante und echtzeitfähige Webanwendungen geht.
Um an dem Workshop teilnehmen zu können brauchst Du einen eigenen Laptop mit aktueller Version VirtualBox. Hier findest Du das VirtualBox-Image für den Workshop. Username und Passwort ist "nodejs", was sonst ;)
On 15th June 2013 we have the following schedule:
Where?
TNG Technology Consulting GmbH 
Betastraße 13a 
85774 Unterföhring 

We wish you a nice journey:
by S-Bahn: Unterföhring (S8)
by Bus: Linie 233, Haltestelle Betastraße
by Car: There are parking areas on the left side